Character CreationEdit
Each player with the system starts with 7 xp points with which to generate their beginning skills for their character, players may invest into up to a maximum of 3 ranks in any skill at initial generation unless otherwise affected by certain effects during this initial generation e.g. certain unique careers from specific factions may negate this initial cap limit. Alongside this a player may select a career for their character at gen; representing their characters role within their society or general work background, which will have effects on their characters skills through bonuses to certain skills, downtimes or through giving access to certain calls of effects earlier on for the player to utilise.
After each event a player will receive 2 xp points with which to further invest in their skills, these do not have to be invested in the same skill and players may choose where they invest these experience points, or whether they wish to bank any particular amount.
After this upon completing your character generation, you will have 2 body hits plus your relevant Rig (armour) hits, which ever skills you have chosen for your character, your career effects and for crafters your initial crafting recipes and some crafting supplies applicable to your crafting skills. Equipment wise all new characters start with two worn level items and a single crude item in your possession; these are chosen based on your skills but can be switched out upon picking up your initial player pack from GOD, 12 credits of in-game currency and a full basic magazine of ammo.
Each character's bleed count is 180 seconds in cataclysm, once this hits zero after a player is downed that player character will be dead. During your bleed count you may be 'executed' which immediately drops your bleed count from its current count down to zero at which point your character is dead. 
Skills And ProgressionEdit
Below are the skills for the system, broken down into names and relevant In game effects. Some of the skills are plain and simple to understand, others have additional effects or abilities associated with them, and these are listed as to their exact nature in the Skill progression trees.
| | | |
| --- | --- | --- |
| Skill | In game effect | IC Examples |
| One Handed Ranged | Allows use of one handed ranged weapons | Handguns, revolvers, pistol crossbows, sub-machineguns |
| Two Handed Ranged | Allows use of two handed ranged weapons | Rifles, shotguns, Bows, LMG's, Assault rifles |
| One Handed Melee | Allows use of one handed melee weapons | Short swords, axes, maces, knives |
| Two Handed Melee | Allows use of two handed melee weapons | Spears, Pickaxes, Sledge hammers, Long sword |
| Light Rigs | Allows use of Light armoured Rigs | Leather armour, adhoc armour, improvised protective gear, re-purposed equipment |
| Heavy Rigs | Allows use of Heavy armoured Rigs | Metal plate armour, Riot armour, Full ballistics vests, plate carriers etc. |
| War-Leader | Allows a player to lead a war-band and use of war-leader gambits | Politicians & known leaders e.g. tribal elders, Officers, squad leaders, clan thane, Ship's captain |
| Medic | Allows a player to perform medical abilities upon another player | Healers, doctors, surgeons, combat corpsman, Old Sawbones |
| Crafting | Allows the ability to craft 4 tech from a chosen area (Arms tech, Cyber tech or Bio tech), and allows the player to perform analyses' on unfamiliar tech. | Weapons smiths, biologists, computer hackers, code jacks, makers, builders, metal workers & gene shapers |
| Neural-Net | Allow the use of the neural Net ability and Cyberspace access | Seers, Virtual combat engineers, Technical specialists, delvers, dream walkers |
| Extra Recipe | Allows the user to pick one additional recipe for their chosen crafting tech | Know it all's, Photographic memory, Mimics, Repositories & quick learners |
| Iron Willed | Provides one additional Body hit | Old Breed, Simply harder than the rest, Pure Determination |
| Stubborn | Provides 30 seconds additional bleed time | Red eyes, Black raged, Never-say die, Truculent & sheer bloody minded |
| Code Vault | Provides the player two additional Personal Data Caches | Deep seers, Dedicated Server Sprites, Visual code engineers, Dream shapers |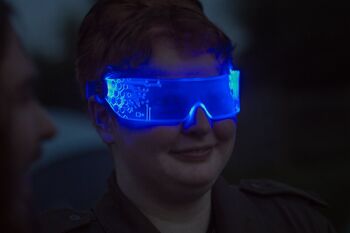 A Note on Dual Wielding
With the Hive cataclysm system, the ability to utilise ambidexterity when fighting e.g. to dual wield weapons, is considered a hard skill. If you can fight with a weapon in one hand then you are capable of fighting with two weapons in either hand, there is both an IC and OC reason behind this. IC this being that if your character can wield his/her weapon in one hand, then they have sufficient training to use the same weapon in both hands simultaneously. OC if you as the player can effectively fight utilising a dual wielding style, than we as the game staff are not going to penalise you for doing so in the IC setting by making its use IC a skill. We aim to be able to allow players to utilise their hard skills to the best of the abilities without penalising them for wanting to do so with the system. 
Rank Progression and Cost
Edit
Below is the Progression cost tree for each skill within the cataclysm system, detailing as to what exact amount of experience is required to be spent on each rank of the skill in order to level it up. More advanced ranks require more xp spent on them in order to progress to that level than others due to the nature of the skill. This represents in game time dedicated towards training in that skill, or spending time learning it from a mentor or training regime. Some general skills may be taken multiple times however with an ever increasing cost each time as IC the human body can only be trained in mind or body so much. For these repeat selection general skills the cost increases by 1xp per selection e.g. starting at 2xp per selection, then 3xp, then 4 xp etc.
Main Skills

Skill

Rank 1

Rank 2

Rank 3

Rank 4

Rank 5

Level

Crude

Worn

Standard

Prototype

Arbiter

One Handed Ranged

1

2

3

5

7

Two Handed Ranged

1

2

3

5

7

One Handed Melee

1

2

3

5

7

Two Handed Melee

1

2

3

5

7

Light Rigs

1

2

3

5

7

Heavy Rigs

1

2

3

5

7

War-leader

2

2

3

5

7

Neural-Net

1

2

3

5

7

Medic

1

2

3

5

7

General Skills

Skill

Cost

Special Note

Crafting

4

Pick one Crafting tech (Arms tech, Bio tech or Cyber tech) and then four recipes from said area, also allows the player to perform inspections & to deconstruct unknown tech.

NOTE: Cyber tech Crafters Gain the 'Hacking' call in addition to their recipes, Arms-Tech Crafters gain the 'Repair' call in addition to their recipes & Bio-tech Crafters gain 'Analyse' ability in addition to their recipes

Extra Recipe

2

Note: The Cost for this skill raises by 1 after every selection e.g. Costing 2xp, then 3 xp, then 4 xp

Iron Willed

2

Note: The Cost for this skill raises by 1 after every selection e.g. Costing 2xp, then 3 xp, then 4 xp

Stubborn

2

Note: The Cost for this skill raises by 1 after every selection e.g. Costing 2xp, then 3 xp, then 4 xp

Code Vault

2

Provides two additional Personal Data Caches (May only be taken once)
Careers in game represent a characters chosen role within the warband and in their faction as a whole, from an OC perspective it represents the Characters training and upbringing, as well as their aptitude for a certain way of life. At Gen a player may choose ONE career for their character to have.
Career Skill

Description

In-game effects

Doctor

Ranging from battlefield surgeons to town doctors, the professional medical individual is a value part of all aspects of society, providing medical support to all those that need it

Gain +2 to medic skill rank,  + 1 Bio tech recipe when selecting  Crafting (Bio tech) & once per an event may Resuscitate a terminal player

Soldier

The Warrior on the wall, the soldier stands between the darkness and their faction as a shield for their people, carrying war to their enemies and guarding their people's lands.

Gain +1 to Heavy Rigs skill rank & two handed Ranged skill rank

Hacker

Gifted cyber-techs and neural network users, Hackers have a knack for breaking into what shouldn't be theirs and gaining access to old systems that might otherwise block their peoples escape or victory.

Reduce Hacking time required on any interaction by 30 seconds

Code Jacker

There are some that spend so much time 'jacked in' as they call it that the boundary between the living world and the virtual becomes a blur, these individuals become so hard coded that they can slip between this boundary with ease, their minds immersing in to ether of the digital world

+ 2 Cyber tech recipes when selecting  Crafting (Cyber tech tech) & + 1 Neural net skill rank

Artisan

Ranging from gun-smiths to Bio-technicians to Cyber-shifters, the crafter maintains and shapes everything their people could need, providing the equipment to survive in this desolate future.

+ 1 recipe may be chosen for all Tech skills, and may choose two recipe from another tech area OR Reduce Cost of the Crafting skill by 2xp

(Note: this means +1 recipe & two from another tech area outside of your chosen, OR +1 recipe & skill cost reduced by 2xp)

Merchant

From simple market traders, through to big time gun runners, the Trader knows how to make cash with what he has to hand, these business savvy folk drive their factions economies ever onwards  in search of riches and rewards.

Bonus to Income from trading option in downtime (+50% added in currency generated)

Scavenger

Drifters and salvagers, the humble Scavenger knows where the best bits are always hidden, and their sharp eye has come in mighty handy to many a warband out on a salvage run

Bonus to Scavenge option in downtime (+50% in salvage collected)

Officer

Individuals Trained from birth to lead to Bombastic Individuals with the biggest stick, Officers know how to lead their troops in a fight and make the best of their training in doing so.

Bonus to Military option in downtime (+50% added combat strength) & Gain +1 to war-leader skill rank

Scout

The eyes and ears of many factions and warbands, scouts serve as the first warning many folks get of problems heading their way from one valiant scout making it back to warn them

Bonus to Scout option in Downtime (+1 intel generated), Gain +1 to Light rigs skill rank and + 1 to Two handed ranged skill rank

Gunslinger

From grizzled adventures to heartless mercenaries, Gunslingers live by their wits and die by their tools, they exist in every wake of life and their goal is the pure essence of survival

Gain +1 to one handed ranged skill rank and one handed melee skill rank

Brawler

Ranging from Boxers through to armour bound Heavies, Brawlers are never more at home than when in the middle of a fight, where their size gives them a distinct advantage in clobbering the enemy

May Call 'Strike down' once per day, Gain +1 to two handed melee skill rank &  +1 to heavy rigs skill rank

Duellist

More lightly armoured than their brawler brethren, Duellists flit through the battle lines, piercing weak points and challenging enemy leaders to one on one fights, their quick blades and quicker movement proving the down fall for many an opponent

May call 'Stun' twice per day, Gain +1 to one handed melee skill rank & +1 to light rigs skill rank

Breacher

Often found leading in the front of a charge or shielding comrades Breachers have always planted their feet firm with their shield arm locked forward, a glare crossing their brow as they weather the storm battering against them, their great shields provide invaluable cover to their allies as the advance.

Allows the user to utilise a shield one tier higher than their current e.g. if not able to utilise a shield in any way the player may utilise a crude level shield, if able to use a crude level shield the player may utilise a worn level shield etc. May also Resist the 'Suppressing Fire' Call once per day
Rigs In Cataclysm
Edit
In cataclysm the Rigid Integrated Grid System (Or Rigs for short) are your character's armour against the various forms of danger that may befall them e.g. weapons fire, explosions and mutant creatures. This system is made up of two set ups, Light Rigs and Heavy Rigs, that take up the difference between conventional body armour with retrofitted Rig emitters and Specifically designed Rig armour plating that meshs together with an under-layer to provide protection against direct energy discharges. In game this difference takes the form of Light rigs requiring less coverage over the body but providing lighter protection, whilst the Heavy rig provides much heavier protection in combat but requires more significant body coverage. This has been laid out in the two tables below for your convenience.
| | | |
| --- | --- | --- |
| Level | Light Rigs | Heavy Rigs |
| Crude (Rank 1) | +1 Rig Hit | +2 Rig Hits |
| Worn (Rank 2) | +2 Rig Hits | +4 Rig hits |
| Standard (Rank 3) | +3 Rig Hits | +6 Rig Hits |
| Prototype (Rank 4) | *See Special | *See Special |
| Arbiter (Rank 5) | +5 Rig Hits | +8 Rig Hits |
Special:
Prototype rigs need the same level of phys-repping as the Rig they were based upon e.g a worn level prototype Heavy Rig requires the same level of phys-repping as the Worn level Heavy rig.
R.I.G.S And Necessary Phys-repping
Edit
Below is a table explaining the phys-rep requirements for HIVE:cataclysm for each level of R.I.G.S armour that needs to be worn by the player in order for them to ascertain the relevant additional hits from said armour.We are happy for players to wear more than the stated requirements below as a route for potential RP whilst IC as some players who have chosen to do so have stated they are  'refurbishing an older fully armoured rig set up' when questioned in game.  
| | | |
| --- | --- | --- |
| Level | Light Rig | Heavy Rig |
| Crude (Rank 1) | Vambrace arm guard/Greave on one arm/leg e.g. Thick leather, Layered leather etc | Main chest Area covered (Helmet optional) e.g. Bullet proof vest, Metal breast plate etc |
| Worn (Rank 2) | Light Chest covering in addition to one arm/leg covering e.g. Leather chest plates, Tac-vests, Motor-cross Jackets | Leg's Covered in addition to Main chest area e.g. Riot Leg guards, Greaves (metal or otherwise suitably looking) etc |
| Standard (Rank 3) | Both legs/Arms covered in addition to Light chest covering e.g. Thick leather, Layered/Splinted Greaves or vambraces, Motor-cross arm or leg guards | Arm's Covered in addition to Leg's and Chest e.g. Riot arm guards, Vambraces (Metal or otherwise suitably looking) etc |
| Prototype (Rank 4) | *See Special Note | *See Special Note |
| Arbiter (Rank 5) | Both arms & legs covered with light chest covering | Fully body covered, with additional Full face Guard & Helmet |
An Example Character GenEdit
Below is an example of an initial Generation character form with how a starting character with the system may look upon initial creation by a player. The Blocks Marked in black are the chosen starting skill points used within the available skills. The Sections marked in Red are the Bonuses from the chosen career within the system, whilst those marked in Green are any bonuses from the player characters chosen Faction Sub-Class.
In this case the character is a member of the Indentured subclass of the Cellborn faction, serving as a soldier for their career within their warband, the Oath-Rites. They have Rank 2 in two handed Ranged, with Rank 2 in one handed Melee and Rank 2 in Heavy Rigs. This means that the player would be able to utilise worn level Heavy Rig armour from the start, alongside a Worn One handed melee weapons and a Rail-tec two handed ranged weapon should they be able to procure one, otherwise any worn level two handed ranged weapon from the beginning of their character. They would also be able to utilise grenades from the start, alongside with knowing how to handle Upgrades to their Rig armour. In terms of Hits this build type would start on 6 Hits globally (2 from body hits and 4 from their heavy armour).
Player Name:

Test Player

CID:

001.1

IC Name:

Theo 'Ox' Carlson

Faction:

CellBorn

Group (War-Band):

Oath-Rites

Career:

Soldier

Sub-Class:

Indentured

Skills

Rank 1

Rank 2

Rank 3

Rank 4

Rank 5

1h Ranged

2h Ranged

X

XX

1h melee

X

XX

2h Melee

Light Rigs

Heavy Rigs

X

XX

War-leader

Neural-Net

Medic

X

Crafting

Extra Recipe

Iron Willed

Stubborn

Code Vault

Background Information (IC):

A Warrior of the Oath-Rites, Theo serves the clan Grey-Blade as a soldier, putting himself on the front line in the name of honour in order to protect his clan and people from the mutations and enemies beyond the Bulwark and Prim. (The X marks in red are bonus ranks from the character's career, whilst the green are bonuses from their subclass advantages.)
Community content is available under
CC-BY-SA
unless otherwise noted.